Category:
Front of House
Guest Experience
Guest Ordering
How To
Management
Service
Got Service?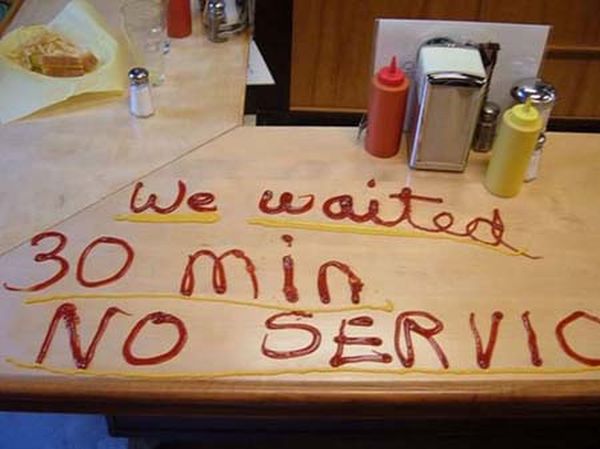 Here's a question: Is your floor management active? I recently ate lunch at a busy national chain and noticed there wasn't any management actively working the dining room. Lunch took an hour to get to our table. An Hour!! The table next to us had a different server and it took even longer to get their food. I was a little astonished.
Because our service was pretty good, I surmised that only the kitchen was having problems. Then I saw a guest get up and refill his own soda from the server station. At that point, I realized that their table and many others were being neglected.
Many restaurant chains boast a 100% guest interaction with managers. Few to none actually succeed. With smaller independent restaurants, I see even less effort towards table checks by management. Too many restaurant managers don't want to be active in the dining room, lest they have to deal with an unhappy guest. This is a very fundamental and basic mistake. How can managers and owners feel confident in the service they provide without personal verification?
Could a floor manager have made our food come out of the kitchen faster? Maybe. But probably not. However, adding poor service to long cook times will bring disaster to your establishment. A seasoned professional needs to be out and in the mix to see that guests are happy. I have stated in prior posts (
Putting the Host in Hospitality
&
Make Your Problem An Opportunity
) there are a lot of opportunities to make a great outcome from a poor situation. In most cases servers don't have the authority to change a bad experience into a positive one. Therefore, active floor supervision is a must.
Take a good look at what is at stake when it comes to service in your restaurant. Then take stock of the experience level of many restaurant staff. Scared yet? You should be. Get out there and herd some cats!!
Good Luck and Good Hospitality
Zach
Tag:
floor manager
guest interaction
happy guests
long wait
sales building
service manager
supervision
table touch
table visit
unhappy guest